Thursday, Oct. 22, 2015

Agh! I'm sorry about how much time has gone by! You might have heard that I have not been feeling well....as in pneumonia!!! But I've returned today, feeling much better, shot full of antibiotics, and power boosted by 25 beautiful smiling faces! Your children really did make me feel better this morning! I was sorry not to get to have a "playday" with them at the field trip. I did see some fun photos and hear from all of them what they enjoyed the most!
We are continuing our learning with the letter "Tt" and the word "like". We are going to learn about verbs (words that describe an action).
In Math, we're starting on work with/and writing numbers 6 through 10.
In Social Studies we went on a Fall Exploration Walk. We walked around the grounds and looked very carefully at trees we don't normally look at, looking for leaves that are changing colors. They were allowed to find different color leaves on the ground beneath the trees and bring them back to class. From there, we added some math by sorting and graphing them by color. We discovered that nobody brought in a brown leaf and talked about why. (Maybe not as different at the colorful reds, oranges, and yellows).

Upcoming News to Note:
Next Wednesday, 10/28, we will have a Halloween get-together with our 8th grade buddies/
Next Thursday, 10/29, we are planning on carving our pumpkin that we brought back from Milburn Orchard.
Next Friday is the SJB Halloween Parade! I sent home the information about the costumes representing a storybook character. They are to come in wearing their costume, and they will keep them on all day! Following the parade, there will be a Halloween party in the classroom. The homeroom moms will be contacting you about some items to help out with for the party. All Parents are welcome to attend the Parade and Party!


Tuesday, Oct. 13, 2015

Tomorrow is another Rosary Prayer Service in the Church at 1:50pm. Families are welcome to attend. Our class will be sitting with their 8th grade buddies while praying the rosary.
Our new letter this week is "Pp". We are learning the sound /p/ and words that begin with that sound.
Our new High Frequency Word is "a". We are practicing sentances with "a' in it, like:
I see a boat.; A kite is in the sky.; etc. So far, our 6 flash card HFW's include: the, can, I, see, we, and a.
Last week we learned about nouns, which describe a person, place or thing. This week, we are going to learn about verbs, words that describe an action.
In Math, we are assessing the knowledge learned with shapes and patterns. Then we are reviewing numbers 0-5, and moving onto numbers 6-10.
For "P" week, I am going to ask one table to bring in something from home that begins with the letter "P". I will send a note home in the folder of the children at that table. The item will be due on Friday of this week.
Also, I will be sending an email/or note to the parents who have been cleared to chaperone at out field trip to Milburn Orchard.
Thank you!

Thursday, Oct. 8, 2015

Happy 4 day weekend!
This week we have been spending quite a bit of time learning about Fire Prevention and Safety. We actually had our first fire drill! Your children did a great job walking out calmly and quietly. I feel pretty confident after our many discussions that they would know what to do at school. I am encouraging all of you to please review a plan of what exactly to do at home in the event of a smoke alarm going off, or smoke and/or fire in the house. I was initially startled when I asked the class what they would do if they got separated from our group while we were walking out after a fire alarm sounded. Many replied "Go back to the classroom and wait for my teacher", or "Stay still in the hallway until my teacher or the firefighter comes for me." I was thrilled when one replied "Keep walking outside". I made a big deal about that correct answer! So, please check with your children about what they should do at home.
We also talked about Christoper Columbus and his 3 ships.
This month, our focus is the Parable of the Good Samaritan and we read the story in class.
The students are doing really well with writing their letters.
Please Note: The Letter Writing Journals will go home every other week, with 2 new letters each time. Some children really went to town and wrote a gazillion letters. I felt bad, their hands must have been tired! They only need to write 3 across, going down the page in neat columns.
Please Note: Next week is a short week: No school on Monday 10/12, and an early dismissal on Friday, 10/16. There will be NO HOT LUNCH on Tuesday, 10/13.
Enjoy this beautiful Fall Weekend!

Monday, Oct. 5, 2015

Happy October!
This morning, our Firefighter Presentation had to be postponed because our presenter was needed at work! He has rescheduled for next week, Tuesday, Oct. 13th. We still began learning about fire safety.
Kindergarten attended their first rosary prayer in the church this afternoon. They sat with their 8th grade buddies and did a great job.
"My Homework" Math sheet went home today to be completed and returned by the end of the week. There may or may not be another one going home this week. It will depend upon whether we are able to do it in class or not.
The Letter Journal will go home again next week, when we have 2 letters to write.
This Thursday, Oct 8th, will be a "Wear Day" in KB. Since we are learning about the letter "Ss", your child may wear: sunglasses, silly socks, or a silly shirt (or a shirt with a picure of something that begins with "S", such as stars, sun, sparkles, stripes, Superman, etc.)!

The cover letter for the field trip, along with the permission form, went home today. I wrote on each paper if I already received a signed permission form. I do have 8 parents who volunteered to be chaperones. I submitted your names to the office to get approval (based on your clearance checks). I will confirm again, and you can send in your fee at that time.
Thanks!
Reminder: No School on Friday, Oct. 9th and Monday, Oct.12th

October 2, 2015

Our normally beautiful fall is off to a wet start....and we all survived the trips back and forth from church and lunch! I have several housekeeping items to share with all of you:

1)Outside and inside clothes: Please be sure to send your child in to school with warm ouside clothing for our trips to music, church, lunch, and gym. Hoods are helpful! Also, please check the school uniform guidelines for what to wear in the classroom. There is a uniform navy sweatshirt for inside (and outside) use. Sometimes children want to wear their cute jackets or sweatshirts during class and I have to remind them it is not part of the uniform. (When it has been cold, I have let this slip, but please help them to have uniform clothing on in class.)
2) VERY IMPORTANT:

Please

label the inside of your child's sweatshirt. I am starting to get a collection with no names in the label. And when I pick it up off the floor, and ask who it belongs to, they all say "not me"!
3) Rest Towels: due to the excitement of our apple tasting/experimenting, the towels did not make it home today! We will send them home Monday, to be returned Tuesday.
4)Field Trip: The permission slips went home without the cover letter! We are getting that on Monday. So, Monday, a cover letter will go home with more information. Regarding chaperones, we are only allowed to have 8 parent chaperones. The cover letter will explain the cost for the chaperones. I have already filled our 8 parent volunteer spots, with 2 on a wait list in the event something changes with one of the volunteers. I will confirm the parent chaperones on an individual basis.

As for class, we had a great deal of excitement and fun tasting 4 different types of apples: Gala, Granny Smith, Honey Crisp, and Golden Delicious. We compared colors, sizes, sweet vs. sour tastes. We measured the apples they brought in using a scale to compare it's weight with a partner's apple, links to measure the circumference and height, etc. We also read about, and saw a short film about, Johnny Appleseed.

We also celebrated two feasts this week. The feast of St. Francis and Guardian Angels. We read about St. Francis and the peace he spread. We read about different types of angels and focused on guardian angels. You might want to ask your child what a guardian angel does. We made hanging guardian angels and talked about what name they would give to their's. Father Lewis had mentioned in Mass that you can give your guardian angel a name. I heard it all today, from Nemo to Nicholas!

In class, the students are beginning to take assessments as a group , using "secret agent" folders propped up to give them privacy and keep their eyes on their own paper. They are doing a great job with it. I will have plenty to share at conference time.
Thank you for signing up for the conferences!

On Monday, they will have new table groups. They are aware.
Also next week is a 4 day week: there is no school on Friday, Oct. 9th and on Monday, Oct. 12th for Columbus Day. ~ Enjoy!
Have a great weekend!


September 28, 2015

Happy Monday!
1. Homework Writing books went home today. The instructions are inside the front cover. They will have 4 pages of letters to practice: M,m,A,a. They are to keep the homework books all week and return them on Friday. I explained that I would check homework on Friday and keep track of their completed work. We did "Mm" last week and practiced writing both upper and lower case letters. Today is "Aa" week, and the letter was introduced. Tomorrow, Tuesday, we will be learning the correct way to write Aa.
2. A Math "My Homework" page went home today already completed. You will find these during the week as we complete lessons. They are to complete the math homework at home and return to school on Friday in their folder.
3. We are starting Show and Tell with our letter of the week. I will assign one group each week to look around their house and bring in one item that begins with the letter of the week. Please look for a note in the folder to see if it's your child's week to bring something in for Show and Tell.
4) Our new HFW (High Frequency Work.....aka "sight" word) this week is "we". It is a great idea to start aset of flashcards at home with each HFW on them and practice with your child.
Other News:
**Please return all Kid's Stuff Books if you do not wish to purchase the coupon book.
**This Friday, October 2nd at 9:30am, we are celebrating a St. Francis Day Mass. Families are welcome to join us.

September 25, 2015

We just completed our first full 5 day week, and survived! Hot lunch started and the Specials classes are not changing, so both are good things!

Please NOTE the following items:
1) KB still needs a volunteer to be on the Yearbook Committee for our class. This person would take pictures at class parties/field trips/etc, or collect them from other parent's who have taken pictures of the children in our class. Basically, they will help ensure that our class is represented in the yearbook by providing pictures. If interested please let me know.
2) The "Kid's Stuff" books that went home (to the oldest child in a family) are due on Monday, 9/28/15. If you want to keep the book, kindly send in a check. If you don't want to buy the book, simply return it to your child's class. Thanks!
3) Milburn Orchard Field Trip - The trip has been confirmed for Wednesday, Oct. 21st. Information, Permission Forms, and Chaperone Requests will go home later. Please remember we only have room for 8 Chaperones. All Chaperones must have clearance on background checks.
4) HOMEWORK STARTS NEXT WEEK!!!! Homework will consist of practicing writing Letters in the Letter Journal, Math papers, High Frequency Words we are learning, Show and Tell (by groups/not entire class each week). One Math Homework page was done in class today and was sent home.
5) Web page Notes - Beginning Monday, Sept 28th, I will post Updates on MONDAYS AND FRIDAYS. Monday will include information about homework, and any special days that week. Fridays will be a recap of the week and any upcoming events.
6) Next Mass - Friday, October 2nd at 9:30 am.

This week:
Language Arts: Our Letter was "Mm", we practiced writing upper and lower case M's, & words with beginning sounds of /m/. Our High Frequencey Words are: "I", "can", "the". It is a great idea to use index cards at home to make a set of flash cards for your child to practice at home. We read books in small groups that were made up of sentences using our HFW's and pictures. Students who initially said "I can't do this", "I can't read", were so proud of themselves after reading the book. So many asked me if they could take the books home to read to their parents! Unfortunately, there are only 6 in a set and they can not be lent out. Please encourage your child to find these words in other forms of print...books, magazines, etc.
Math: We wrapped up our lessons on shapes, and moved into the concept and vocab of "more" "same" "less". A homework paper which we completed in class was sent home today. This is an example of what will be coming home for homeword. We are starting our numbers 0-5.
Religion: We talked about Pope Francis and his visit to America. We also are continuing to talk about how to make friends and what makes a good friend.

I hope you have a great weekend and can't wait to see everyone again on Monday!

September 18, 2015

Thank you to everyone who came to Back to School Night! Please feel free to contact me with any further questions.
INDEPENDENCE DAY went very well! All children had a very smooth transition and acted like nothing different happened!
Pleae NOTE:
1) Gym has officially changed to Thursdays! I didn't go over the requirements set forth by our PE Teacher. A note from her should have been in your packet. The most important point she has asked me to remind parents about is the FIRST name must appear on the front of the grey t-shirt and the navy sweat shirt.

2) Hot Lunch is officially scheduled to begin on Wednesday, Sept. 23rd!
This week, the students have been having fun with our bear theme. They especially enjoyed today's "Bring your bear to school day". All children participated with either their own bear from home, or one they were able to borrow and name from school. They did bear presentations to their classmates, danced with their bears, had an outside bear parade and even played bear games (how high up can your bear go....outside)! Ask them to tell you how the Teddy Bear got it's name. See if they can tell you anything about President Teddy Roosevelt.
In Language Arts, we continued working on syllables, poems with words that rhyme, and finishing our quick review of upper and lower case letters. We will begin focusing more in depth with writing, etc. next week.
In Math, we have been learning about some 2 dimensional shapes (flats): square, circle, triange, rectangle and hexagon. Ask your children how many sides each shape has, and how many vertices (aka: points, corners). We're learning new math vocabulary as we go along.
In Religion, we've been taking about ways to show caring and helping at both home and school.
In Social Studies, we did our bear theme, and read several books about bears. They created Corduroy Bear, and other cutting, coloring, & gluing activities from "A Pocket for Corduroy". (All practicing skills with fine motor movement and following a series of directions).

I'm happy to see parents signing up on SignUpGenius for their conferences. If you have any difficulties with that, or need to talk about a different time, please contact me.
Have a great weekend!
Mrs. Pogonyi
Conferences Sign-up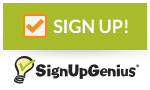 September 11, 2015

End of another great week! Please look below in my entry on 9/10 for info about picture day, back to school night and early dismissal.

This week in class:
Language Arts: we read poems and focused on rhyming words (words that sound alike, or have the same endings). It's a great idea to play rhyming games during car rides, etc. Our sight words are "I" and "can". We made "I can" sentences by sharing things we can do with our family. We used the smartboard for fun learning games with upper and lower case letters.
Math: We focused on sorting and classifying. You might want to ask your child "What are some of the ways you can sort objects?" (Answers: by color, shape, or size).
Religion: We read and discussed The Parable of the Prodigal/Lost Son. We reviewed vocab words (parable/story, greedy/selfish, prodigal/spend money on things you don't need). They also retold the story by beginning, middle and end. Ask they to tell you the story. The message of the story is that God loves us and always welcomes us back just like the father in the story.
Social Studies: We finished our unit on All About Me. They created a booklet for you that you will see at Back to School Night. They all presented their flower and explained how it represents them.

KB also met their 8th grade buddies, who joined us at our opening Liturgy. I hope some of you were able to attend. It was a beautiful Mass, and your children's behavior was admirable! Sitting next to an 8th grade buddy does wonders!

Have a wonderful weekend and I hope to see all of you Wednesday night, the 16th, at Back to School Night!


September 10, 2015


Well, mistake #1: I didn't hit the "publish" button on my end of week summary to all of you last week! I'm so sorry! It is below, and better late than never.



Thank you for helping your child do such a great job on their bears. They will be on display during Back to School Night.
PLEASE NOTE THE FOLLOWING 3 EVENTS NEXT WEEK:
1) Tuesday, Sept. 15th is School Picture Day. Children are to wear their "Sunday best" attire instead of their uniform. Our class pictures are scheduled for 8:00am. Please remember to return the picture form. Even if you are not ordering pictures, the envelope/form must be returned.
2) Back to School Night is Wednesday, Sept. 16th at 6:30pm. You are to come directly to the classroom. This is a "parents only" evening. It is a chance for you to meet with me, hear about the school year, and ask any questions. Of course, you are able to ask me questions anytime!
3) Friday, September 18th is Early Dismissal at 11:35am. We will not have lunch or recess that day but they will have snack time.

More to come on this week's activities!


September 3, 2015

KB is working really hard on many new subjects:
In Language Arts, we're reviewing the Alphabet (Letter Names an Letter Sounds). We're also discussing story details for comprehension. In Math, we're focused on Positions, using the following words to describe where an object is: above, below, next to, inside, outside, in front of, and behind. In Religion, we're learning about "God Gave Us the World", and discussing ways we can take care of the world. In Social Studies, we're doing an "All about Me" lesson and discussing how we are all special and unique. In everything, all day, we are learning appropriate classroom, hallway and school behaviors and expectations. They have sticker charts on our bulletin board, and can earn stickers by being caught in the act of showing appropriate behaviors and following directions. When they earn 10 stickers on their chart, they may choose a prize from the prize basket.
THEY ARE ALL DOING A FANTASTIC JOB! You should be proud!

Please Note: Milk begins September 8th. The milk and lunch cards are going home this afternoon. Please remember to only put the card in the folder that you want your child to receive that day. I will post on my web page when I find out when lunch service starts.

Lastly, we are going to be doing a Bear unit, and a project for you to do with your child is being sent home in todays folder. It is due back in school next Thursday, Sept. 10th. There are directions attached. Please let me know if yo have any questions.

No School Friday, Sept. 4th and Monday, Sept. 5th......Return to school Tuesday, Sept. 8th!

Please have a safe and happy Labor Day weekend!

August 27, 2015

KB had a fantastic first day! Everyone participated in all parts of our day! We learned many, many new rules and expectations for how to behave on the carpet, at the tables, walking in the hallways, at recess and at lunch! So much to take in on a first day. And I have to say, everyone did a great job. This really is a great class. I feel fortunate to be able to be with, and to teach your children this year.

Some items to note:
You all should have received info today on the Kitchen roof repair and changes to our parking procedures for next week, Aug. 31st through Sept. 3rd. If not, please let me know and I'll send home a copy. PLEASE NOTE: DISMISSAL FOR THE WEEK OF 8/31-9/3:
Kindergarten students who are Limestone Car Riders will be standing in front of the church with me to be picked up. (After this week, pick up will return to the back parking lot by the playground.)

PLEASE NOTE: EAGLE'S CLUB STUDENTS: Please send a separate snack, drink and napkin for Eagle's Club. This snack pack should be in a separate bag than their lunch box. They will keep it in their backpack all day until they go to Eagle's Club.

Opening School Mass will be on Tuesday, Sept. 8th at 9:30 am. Families are welcome to attend.

Milk Orders begin on Tuesday, Sept. 8th

Prevent Child Abuse Delaware will be doing a presentation for Kindergarten on Sept. 9th.

Upcoming: Parent Back to School Night will be at 6:30 pm on Wednesday, Sept. 16th.


August, 19, 2015

Welcome to KB!

I am so excited to meet everyone next week! The orientation conferences have been set for next Tuesday, August 25th, and Wednesday, August 26th.
Please remember to bring the following to your orientation conference:
Yellow Medical Emergency Card;

Questionnaire for Kindergarten Parents:

School supplies (1 box of kleenix; 1 container of hand sanitizer; 1 large container of sanitizing wipes; and 1 large brown paper grocery bag)

Your child's decorated flower with photo attached;

Happy smiles for a very fun year of Kindergarten!

I look forward to seeing all of you soon!