Please visit my website on a regular basis. It is updated daily. For the convenience of all, it is divided into five distinct parts:
"About Me" (i.e., Mrs. O'B.-R.'s Background and Contact Information)
Snow Day Work
Homework Website for 8-Hearts
Homework Website for 8-Stars
Homework Website for 8-Diamonds
8-C News Corner, i.e., Homeroom Information
**********************************************
Very Important.... If you wish to meet with me at conference time, please schedule your appointment by using SignUpGenius. Should you desire a conference prior to that time, please E-mail me directly. Thank you.
Conferences Sign-up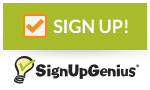 ---